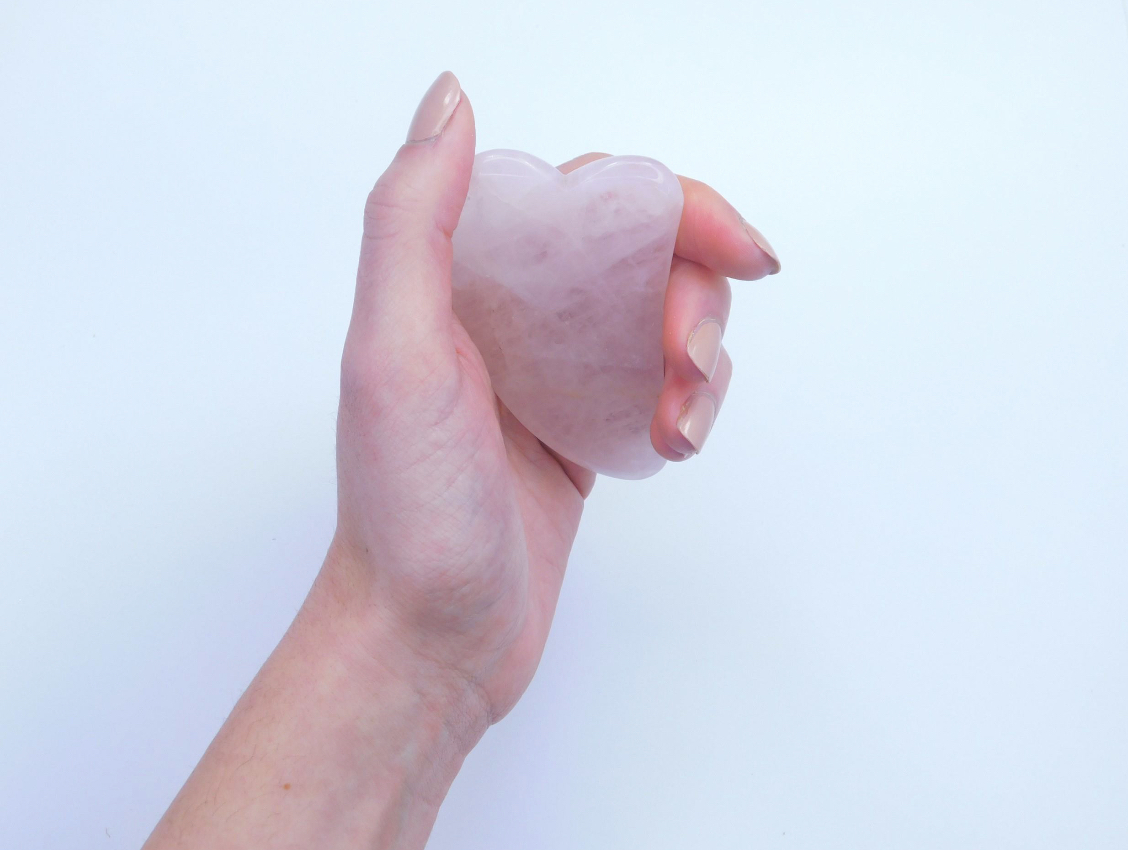 WHAT IS GUA SHA?
Maybe you haven't heard of it, or maybe you're already pondering its smooth, crystal surface, but learning how to use a Gua Sha Sculpting Tool will unlock the next salvation in skincare! We reveal all of its secrets below.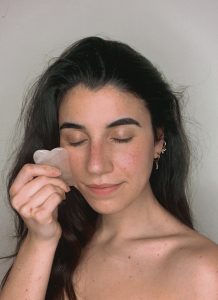 Made up of two Chinese words, the term Gua Sha pronounced 'Gwah' (meaning scrape) and 'Shah' (meaning sand) is a therapeutic, self-massage technique that works with the bodies' lymphatic and circulatory systems, acupressure points and meridian lines of the body. Traditionally a round-edged tool made of materials such as horn, jade or metal is used to scrape across the skin to release areas of tension, activating a wonderfully complex scientific process.
It can take a while to get your head around the idea of scraping along the skin to improve your health, but Gua Sha has a long history and is widely used in East Asia.
According to traditional Chinese medicine, qi (chi) is energy that flows through the body. The Ancient Chinese believed that a person's qi must flow and be balanced in order for overall health and wellbeing to remain. Ancient Gua Sha practitioners believed that inactive/ blocked qi was the root cause of inflammation and therefore lead to chronic pain. By rubbing or scraping the skins surface to obtain 'Sha', it was believed to aid and assist in qi flowing again, thereby reducing inflammation and promote healing.
BENEFITS OF FACIAL GUA SHA
Facial Gua Sha is a bit like facial yoga, allowing you to work deeper into the muscles and fascia rather than by using fingers alone. When tension is held in one part of the body it constricts oxygen and blood flow that will in turn, holistically affect you. When the affected areas are massaged, you are repairing damaged fascia and muscles as well as encouraging fascia and muscles in the surrounding area to relax and loosen, therefore relieving tension and tightness.
Using a Gua Sha Tool provides an alternative massage therapy that drains, depuffs, and sculpts your face—giving you the ethereal glow and overall well-being of a goddess! As you apply pressure to your skin, you can expect the following health boosts.
Drain lymphatic fluids – Gua Sha has an incredible effect on the body's microcirculation, the system that transports nutrients and oxygen to the blood and removes toxins, just below the skin. As lymphatic fluid is unable to flow by itself and only moves when we move, Gua Sha helps to gently encourage its movement thereby reducing congestion and morning puffiness.
Improve blood circulation – Without blood properly shuttling nutrients throughout your body, you may experience symptoms such as muscle knots, soreness, or pain. Using a Gua Sha stone can stimulate blood flow to relax stiff muscles and tissue, brighten dark circles, and bestow upon users a glowing complexion.
Fight wrinkles and fine lines – Fine lines and wrinkles appear when the skin starts to lose its natural elasticity. A Gua Sha massage can relax tight muscles and tissues, invigorating the skin and making fine lines disappear.
Sculpt and Contour – Over time, the repetitive action of Gua Sha helps to define your jawline, brow, and cheekbones. Consistent use can lead to a sculpted and contoured look, making your skin glow and appear brighter. It can lift, smooth and plump.
Reduces Tension and aids relaxation – By activating the acupressure points along the 12 meridian lines in your face, it also allows you to consciously work the areas of tension in your face and neck, thereby reducing pain, improving circulation, and ultimately increasing physical and mental relaxation. It soothes tired eyes and skin as well as releasing tension in the facial muscles.
Promotes Elastin and Collagen – Studies have shown that the effects of Facial Gua Sha increases microcirculation by 400%, flooding the skin with fresh nutrients and increasing the levels of both elastin and collagen over time.
BENEFITS OF ROSE QUARTZ
The Orli Gua Sha Sculpting Tool is made from pure Rose Quartz aiming to promote crystal healing as well as a relaxing massage.  Often considered to be the stone of compassion and love, rose quartz is said to flush negativity from the body and be particularly adept at smoothing wrinkles.  It's a fabulous addition to your self-care, self-love facial routine.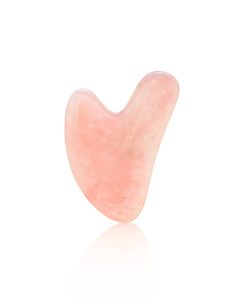 BASIC GUA SHA TECHNIQUE
Knowing generally how to Gua Sha is half the battle. Whether you want to use Gua Sha to depuff your eyes, sculpt your jawline, or take muscle knots out of your neck, the basic technique is the same. Follow this procedure for a successful, rejuvenating experience.
Hold the tool firmly and in the correct orientation. Generally, the gentile sloping curve is used for flat areas like the cheek or neck and the tighter cleft or divot is used to follow bones like the jaw or under the eye. Keep a solid grasp on the tool and angle it at 30-45 degrees from the skin in the direction you scrape.
Scrape in one direction. Always scrape in one direction, following the lymphatic flow, such as from the bottom of the neck up to the base of the jaw. Never scraping back and forth, which could risk injury.
Apply the right amount of pressure. Keep a consistent, gentle pressure that isn't too soft but doesn't make you uncomfortable either. Use long, sweeping strokes, switching to acute pressing motions over areas of increased tension.
BASIC GUA SHA ROUTINE
Cleanse the skin thoroughly
Follow this with a spritz of Rose Water (optional) or hydration mist
Drizzle a few drops of warm oil from the Orli Facial Treatment Candle into the palm of your hand (or an alternative facial oil). Rub hands together and press to apply it all over your face and neck area.  Alternatively, use any oil or cream.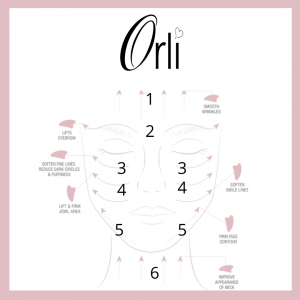 Holding the Gua Sha at a slant, use the edge of the Gua Sha as shown on our Gua Sha chart and repeat each stroke 5-10 times:
Start at the centre of your forehead and work your way upwards on both sides of forehead.
Work your way outwards over the tops of both eyebrows.
Sculpt outwards around your eye area
Sculpt upwards on both cheeks across the cheekbone and lower jowl area
From the chin, guide the tool from the lower jaw-bone up towards to the ear lobe on both sides
Gently glide the Gua Sha up the throat and along the soft area towards your face
Pro Tip:For an extra soothing and cooling effect, leave your Gua Sha Tool in the fridge to cool before using. Finish off your Gua Sha routine with our wonderful soothing Rose Quartz Crystal Infused Face Mask!
CLEANING YOUR GUA SHA TOOL
When you're done, you'll be left with relaxed and invigorated skin—and a Gua Sha stone in need of cleaning. If you don't clean your tool after every use, you could introduce bacteria back into your skin leading to oiliness, and other problems.
To clean your stone, simply wash it in warm water and soap and pat it completely dry with a soft cloth.  Handle your Gua Sha Tool with extreme care during this process, as the semi-precious stone is prone to cracking and can be fragile.
Store in the velvet bag in a cool, dry place or, keep in the refrigerator for an incredibly soothing cooling effect next time you use it.
PROFESSIONAL GUA SHA ROUTINE
If you wish to learn advanced Gua Sha Facial Massage techniques, we are very excited to introduce our latest beauty ritual, the Orli Rose Quartz Gua Sha Facial Ritual Training for professionals.
We have combined three amazing Orli products into a wonderful and beautiful crystal facial ritual.  Sign up for our IPHM accredited training today and receive a training kit consisting of:-
To learn more or, to sign up, click here.
May you find balance in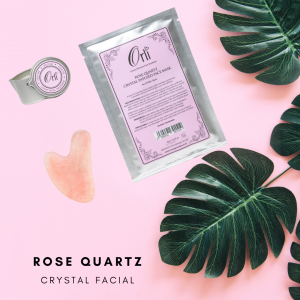 your qi!